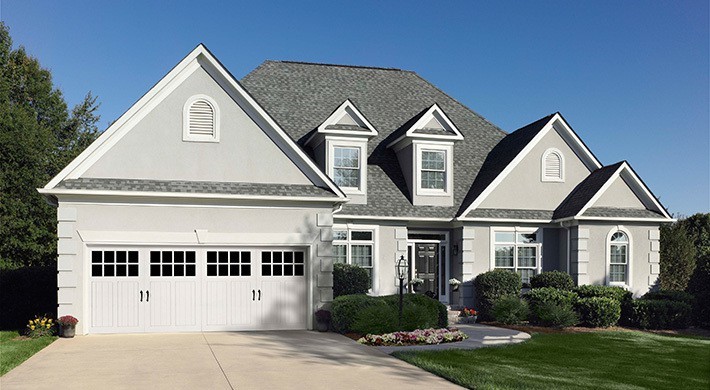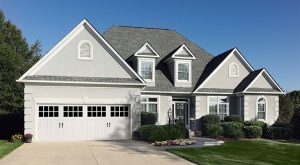 Your garage door should always look good, operate properly and reflect your personality. Here are a few main reasons you'd want to replace it. 1. Create a good impression – When you drive down the street one of the first things you'll notice is the condition of the garage door. Is it in good shape? Is it old, washed out and out of date? Has it been damaged due to wear and tear from the harsh weather? Did your car hit the door? Is it dented, cracked, scratched or rusted? Over time the color may fade and the panels might warp. 2. Save money with an insulated door – Consider replacing your old, worn out hollow door with an insulated one and save money on heating and cooling costs. 3. Reduce door maintenance – When you purchase a steel garage door the only maintenance you'll have to do is to occasionally clean it with soap and water. No more scraping old paint to repaint.
A new garage door will increase your home's value and automatically improve your curb appeal. In fact, the National Association of Realtors 2015 Remodeling Impact Report says that "the national average cost of a garage door replacement is $1,800-$2,300 and recovers 87% of your investment when you sell your house." If you've considered replacing your door, now's the time to see what's available in price and style. Garage Door Styles and Materials
There are two basic styles of residential garage doors: traditional and carriage house which are available in steel, aluminum and wood.
1. Steel – Steel doors can have a vinyl backing, be insulated or double insulated. They are low maintenance, have longer warranties and can come pre-painted in a choice of colors, and are often the most popular type of door purchased. 2. Aluminum – The modern look of aluminum offers a light weight material, a good choice if you have an extra-wide door. Its rust resistant material is ideal for humid environments. 3. Wood – Wood is an elegant choice and can be easily customized. It is expensive and doesn't last as long as other materials, requiring regular repainting or refinishing.
Although adding windows and choosing custom colors will increase the cost of your door, they add to your doors appeal and may be worth the investment.
Need a quote, click here to speak with one of our local technicians