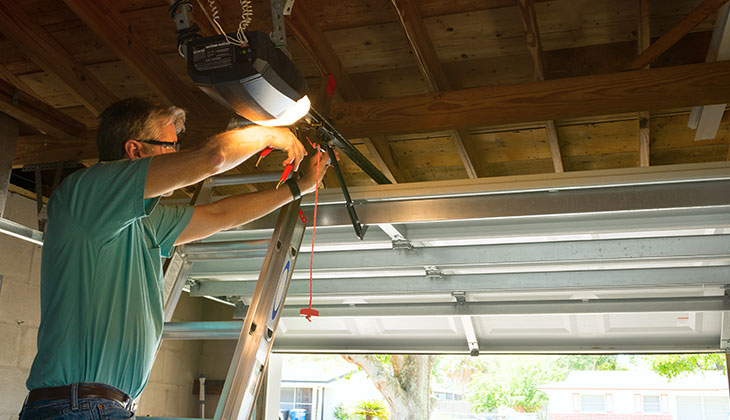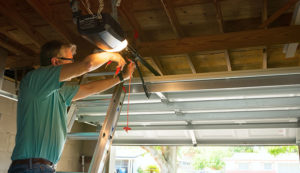 Your garage door is more than just a point of entry for vehicles; it also protects your greatest investment and has a huge impact on your home's overall curb appeal. You might not think much about this feature of your home — until it stops working correctly and you can't get your vehicle out of the garage. In some cases, a malfunctioning door can pose a significant safety issue, especially if you have children or pets that play in or around the garage.
Contact Aladdin Garage Doors for Expert Garage Door Repair Service
Don't let a worn-down, barely functioning garage door interfere with the form or function of your home! Instead, get in touch with Aladdin Garage Doors today for the reliable garage door repair services your home needs.
As a premier garage door company since 2004, we work with local service technicians who have years of experience along with the knowledge, skills, and resources to address any garage door issue, anywhere! Our expert garage door repair services cover a wide range of aesthetic and operational components, including:
Springs
Cables
Rollers
Drums
Brackets
Struts
Tracks
Sections
Remote Controls
Safety Sensors
And More!
We Perform All Types of Garage Door Repair Work
The Aladdin Garage Doors location in your area can handle minor as well as more extensive residential garage door repairs:
Broken springs: Springs counteract the force of gravity on your garage door, making it easier to open. They can wear out over time and might even break in some circumstances, which creates a potentially dangerous situation. We can repair or replace worn-out or broken torsion or extension springs with ease.
Broken cables: Cables rely on the tension supplied by the springs to support and pull the door's weight while operating. Like springs, cables weaken as they age and may eventually snap. Contact Aladdin Garage Doors if you're experiencing signs of cable issues, such as a door that gets stuck during opening or closing or hangs awkwardly on the tracks.
Bent/damaged tracks: Tracks enable the door to move freely when raising or lowering. They can become bent or misaligned, which will prevent the door from functioning correctly. We can fix bent or broken tracks and realign your garage door or replace them if the damage is severe.
Damaged rollers: Rollers are small wheels located inside the track. During opening, the rollers slide up the track to lift the door. They also move in the opposite direction when closing. We can replace damaged rollers to improve the door's function.
Panel replacement: Damaged panels detract from your home's appearance and could impact your garage door's functionality. Our garage door repair service includes panel replacement — a much more cost-effective alternative to purchasing a new door.
Safety sensor alignment: Sensors are essential safety features that automatically prevent your garage door opener from operating when they detect an object in the door's path. The sensors may become misaligned, which causes the door to stop for no reason. We can realign the sensors and get your door working correctly again.
A Safer Alternative to DIY Garage Door Repairs
Modern garage doors are complex systems with many parts and components. Repair work often requires training and expertise that the typical homeowner does not possess. Aladdin Garage Doors can perform the work quickly, efficiently and safely.
By contacting us, you won't have to worry about handling springs, cables or other components that can cause injuries if you don't know what you're doing.
Get Same-Day Repairs From an Aladdin Residential Garage Door Service Call
Most families use their garage doors every day, and when something goes wrong, they simply can't afford to wait on slow, unresponsive technicians. That's why Aladdin Garage Doors offers unbeatably fast and professional garage door repair services. In fact, as long as you call us by 2 PM, we'll make your residential garage door service call the very same day—or the service call is free!
Guaranteed same-day services are just one benefit of choosing of Aladdin Garage Doors; several of our other industry-leading amenities include:
Diverse Expertise: Our residential garage door service call technicians have experience with nearly all sizes, styles, and brands—ensuring that we know how to address any problem efficiently and affordably.
Customer Care: Because we respect your time, we offer two-hour windows for our service calls. We also have dedicated customer service available 24/7!
Skilled Staff: Our uniformed service technicians are carefully screened and highly trained, and they're committed to offering the most professional, courteous, and timely services.
Emergency Response: We know that some repairs can't wait even a few hours, so we provide 24/7 emergency garage door services at no additional cost to you.
We Offer Garage Door Service and Repairs in Many Areas
Aladdin Garage Doors is available to deliver same-day garage door repair service in many parts of the U.S. and Canada. We have convenient locations in:
Alberta
South Carolina
Missouri
Washington
No matter which location you choose, you can expect prompt and reliable repair work whenever you need it. Look at client reviews to see and hear about our work.
Schedule Your Quick and Convenient Garage Door Repair Services Today
To learn more about our professional garage door repairs and request your upfront cost estimate, contact Aladdin Garage Doors today! Call us to discuss your needs with a local service expert, or get started right away by submitting our quick online form.