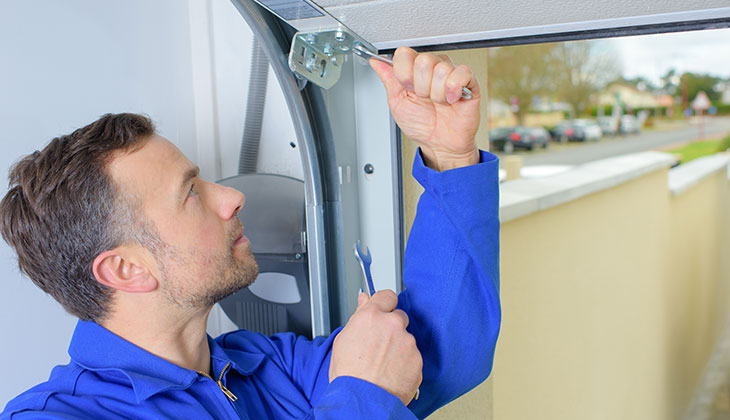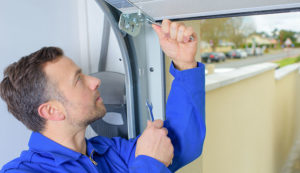 Tracks are among the many essential components in a garage door system. The track houses the rollers that guide the door and allow it to move during opening and closing. A garage door typically operates on two tracks. A vertical track is attached to the jambs on either side of the door opening. This area is where the door rests when closed. The horizontal track features a curved end called the radius and enables the door to suspend from the garage's ceiling when the door is open.
A common garage repair issue occurs when the door comes off the track. When this happens, the door will open and close more slowly than usual. As the condition worsens, the door may not move at all. You could find yourself stuck inside the garage with no way to get your vehicle out.
What Causes the Need for Garage Door Track Repair?
Garage doors can get off track for a number of reasons, from failed springs or cables to damage from impact. They can also become misaligned, which typically occurs when the bolts that hold the horizontal tracks become loose. Misaligned tracks tend to wobble when opening and closing the door, which could eventually cause the rollers to come off.
Trust Aladdin Garage Doors for Your Garage Door Track Repair Needs
If your garage door has jumped its track, it is not a situation that you want to handle on your own. Stuck garage doors can be a major safety hazard, and Aladdin Doors offers the professional off-track garage door repairs that you need to get the situation handled quickly, safely, and affordably.
We've been helping residential and commercial property owners in many parts of the U.S. and Canada keep their garage doors functioning properly for more than 15 years. Count on us to deliver high-quality products, superior workmanship, and excellent customer service. We work with all the leading brands, including Clopay®, CHI, Amarr and many others.
We work on many types of garage door tracks:
Standard radius: Requires 15″ of headroom to accommodate the track curve and other components.
Low headroom: Features a second track installed above the horizontal section and requires minimal headroom space.
Hi-lift: This standard radius track variation is typically the best option for garages with high ceilings, as more of the door remains vertical while open.
Vertical lift: This version of the hi-lift track is a popular choice in commercial and industrial garages, as it does not require a horizontal track.
Roof pitch: As the name implies, this track follows the pitch and incline of the garage's roof.
Repair Your Off-Track Doors With a Garage Door Service Call
At Aladdin Doors, we know what the hassle of a garage door that is off its track. Not only can it be dangerous, but it can also prevent you from accessing your vehicle and other important belongings. With our emergency services and same-day garage door service call options, we're the first choice for solving the problem once and for all. In fact, we offer same day service guaranteed if you call by 2 p.m., or the service call is free!
When you choose Aladdin Doors for your off-track repair, you can count on us to offer:
Courteous, professional service from uniformed and trained crews
Top-quality parts, including rollers, cables, drums, brackets, and struts
Timely and efficient response times to get the problem handled quickly
Support of an award-winning company that has received the Angie's List "Super Service Award" and the "BBB Compliant-Free Award" for multiple years
Emergency service calls at no extra charge
Fully stocked vehicles for no-hassle, professional repair service
Free, detailed estimates and on-site consultations
Safer Alternative to DIY Off Track Garage Door Repairs
Some garage door repair and maintenance tasks are relatively simple do-it-yourself projects. But working with tracks can be dangerous, especially when you consider that a horizontal track supports the door's weight.
If you need track repairs, the safest option is to contact Aladdin Garage Doors to handle the job. We have the knowledge, experience, tools and resources to perform the task quickly and professionally. You'll get peace of mind knowing that your door will function correctly and safely again.
Garage Door Track Repair Service in Many Areas
Aladdin Garage Doors is a nationwide service provider with locations in the following U.S. states and Canadian provinces:
Alberta
South Carolina
Washington
Missouri
Although our scope is national, we deliver friendly and localized service in every community where we do business.
Get Signed Up Today for a Free Off-Track Garage Door Repair Estimate
If you're in need of high-quality garage door repairs that won't break the bank, Aladdin Doors is the company you can rely on to get the job done right—fast! Just give us a call today to discuss your needs with a garage door repair specialist, or fill out our online form now to get started with your free, no-obligation estimate.