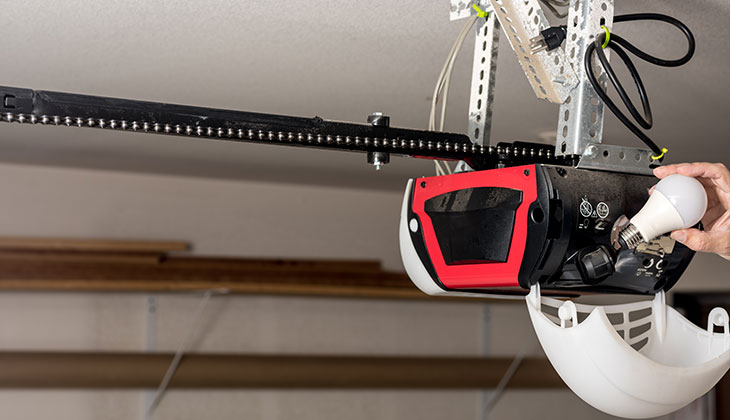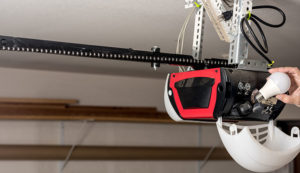 Automatic garage door openers are without doubt some of the most convenient and time-saving pieces of household technology—but they can also be incredibly frustrating when they stop working for seemingly no reason at all. If you'd rather not troubleshoot the dozens of potential problems affecting your broken garage door opener, turn to the experts at Aladdin Doors!
How Do You Know If Your Garage Door Opener Needs Repairs?
Your garage door opener can be a game-changer when it comes to speed and convenience. But what happens when your opener stops operating correctly? Dealing with slow, inconsistent or unreliable garage door openers can rob you of your time and energy.
If you're noticing any issues with your opener, it's always best to call in the professionals and resolve the issue right away. Doing so can prevent small issues from spreading — and save you the headache of a broken door.
Wondering how to know whether a garage door opener repair is in order? These telltale signs will point the way:
Your garage door won't open or close: Failure to close or open correctly is always a dead giveaway that something's amiss. If your garage door is having issues opening or closing, however, your automatic opener may not be the issue. Before assuming your opener needs repairs, scan the area to see if you can spot another visible issue, like a loose cable, misaligned door or damaged rollers. The issue could also have opener-related causes, from dead batteries to disconnected remotes.
Your garage door functions intermittently: Got a garage door that generally works but occasionally refuses to cooperate? Your device may have a wiring fault and need professional inspection and garage door opener repair service.
Your garage door opens and then reverses on its own: If your garage door has a mind of its own, the issue may be with the door's safety sensors. Check that nothing's in the way of the sensors. If this isn't the problem, it may be time for a repair.
Your garage door opener is noisy: Unexpected noises, like grinding or clicking, can indicate that you need an automatic garage door opener repair. If you have an older model, it may have reached the end of its shelf life and could be due for a full upgrade and replacement. Our expert technicians can outfit you with the replacement or repair services you need in no time.
Why Work With Professionals for Repairing Garage Door Openers?
A malfunctioning garage door opener can have any number of causes, from a blocked safety sensor to a disrupted power source to a plain old wiring problem. Oftentimes, in fact, the issue may not originate from the garage door opener at all! An opener that appears to be broken may actually be functioning fine, pointing instead to a larger problem like broken springs or snapped cables.
That's why when it comes to repairing garage door openers, it pays to put the job in the hands of the pros. By working with trained and certified garage door experts — like ours at Aladdin Garage Doors — you'll be able to ensure that your repairs are both necessary and effective, saving the time and frustration of a possibly unsuccessful DIY fix.
Garage Door Opener Repairs vs. Replacement
At Aladdin Doors, our team offers both repair and replacement services. If you're not sure whether you need garage door motor repairs or a full-scale upgrade, we're here to help you decide.
Our fully trained and experienced technicians are able to inspect your existing operator and diagnose the problem in order to offer an effective solution. Whenever possible, we'll provide repair services that restore full functionality and performance to your opener.
However, there are situations when a repair isn't possible or advisable. If your opener has surpassed its shelf life or sustained substantial damage, we may recommend a replacement. Depending on your needs, you may also want an upgrade to take advantage of the latest features and technology.
Common causes for replacement over repair include:
Updated safety regulations
Safety concerns over the make or model of your original opener
Lack of safety sensors
Your original brand no longer exists, so we're unable to procure the parts you need
Choose Aladdin for Same-Day Services and Protective Warranties
By working with Aladdin Doors, you'll not only get high-quality products and parts from recognized manufacturers like LiftMaster and Genie — you'll also enjoy hassle-free service from all-around garage door experts. Whether our technicians find an issue with the opener or the drums and cables, you can rest assured that we're equipped to handle it in a professional, timely manner!
From repairing garage door openers to replacing critical parts, we always provide:
Guaranteed same-day service if you call before 2 PM
A convenient two-hour service window
Upfront cost estimates for parts and labor
Fully stocked vehicles to facilitate immediate repairs
A minimum one-year warranty on parts and a lifetime warranty on opener motors
Get a Free Garage Door Opener Repair Quote Today
Instead of wasting time and money on unnecessary repairs or replacements, get the professional garage door opener repairs you need by calling Aladdin Garage Doors today! To sign up for your free cost estimate, fill out our easy online form right now.