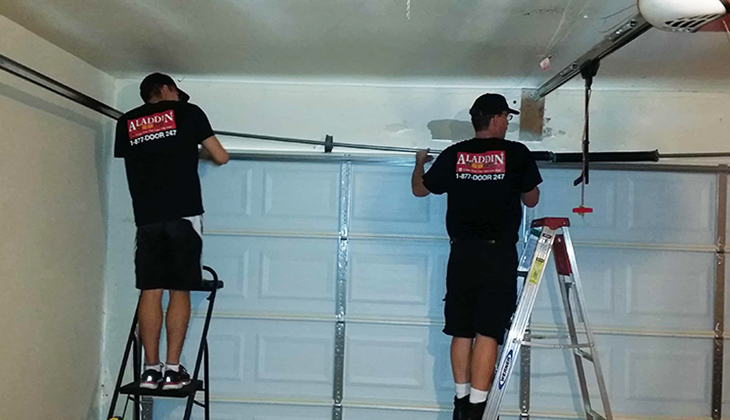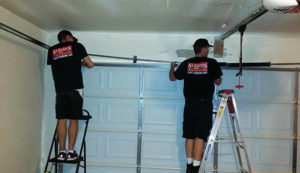 Aladdin® Doors is a full-service garage door company serving residential and commercial customers alike. It all begins with the garage door: the consultation, measurement, selection, installation, take down and disposal of your old door and service and maintenance for the lifetime of your new door. To complement their brand-new door, many homeowners are replacing their old garage door opener with one equipped with Wi-Fi capability, no remote required. The good news is that Aladdin Doors® has what you're looking for. We can deliver what you need and want. Our goal is to earn your business and create a lifelong relationship together, one that you will be more than satisfied with, one that you will refer to friends and family. We invite you to experience our quality and customer excellence that is part of our value proposition to every customer we serve.
Professional Garage Door Installation Services You Can Trust
Replacing an old, dented, worn out garage door with a beautiful, durable, brand-new one can instantly transform your home's curb appeal and increase your property value. Once you've made the decision to go forward, we'll schedule a complimentary in-home consultation. See what's new and what's trending. Browse our brochures and color/stain samples to see what you like. Check out the different models from traditional to carriage-style to contemporary, or we can help you design the door of your dreams. Find out what doors are currently in stock, or order one to your liking. When we deliver your new garage door, we'll remove and haul away your old door. Unlike some competitors and big box stores, we include professional installation. Because we have installed garage doors for almost 20 years, we have the tools, experience and knowledge to do the job right, so you don't have to.
You might think you could do it yourself, especially if you're handy around the house and have a knack for building and fixing things. Maybe you've read a few books or watched some YouTube videos on the subject, and you think you can handle it. Think again. Your garage door weighs hundreds of pounds. It's hard to lift, let alone install. It's made up of several different parts and in order to install it you need to know how each part functions. If you've never done this before, you may end up damaging the door or part of the system. Then you'll have to call a garage door company to fix it or re-install it properly. If the job isn't done right, it could lead to problems that could surface later. Why pay for a brand-new, gorgeous garage door and then pay again for something that could have been avoided with a proper initial installation?
Your garage door is a large part of your home. It adds beauty, functionality and security for years of long-lasting performance. A well-installed garage door provides a safe haven not only for you and your family, but for your home and possessions. Did you know that a professionally installed new garage door includes a full warranty?  If you choose to install it yourself, the warranty may be voided. Another important reason to choose Aladdin® Doors.
Contact Us Today for a Free Garage Door Installation Price Quote
For years, we have maintained an A+ Accredited rating with the Better Business Bureau (BBB) and as a result of our outstanding service, have earned hundreds of five-star online reviews. As a valued customer, our promise is to continue service after the sale and installation of your garage door system.  We also provide same-day appointments and 24/7 support whenever you need it. Don't leave your garage door installation to yourself. Our team of qualified experts can do the job for you. Call Aladdin® Doors for professional garage door installation or contact us online and see the difference. You'll be pleased you did.