Bartlett Garage Doors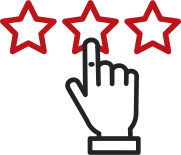 Respected Manufacturers
Is it finally time to upgrade that aging garage door for your home or business? Our premium garage door replacement services will meet your needs. We represent some of the top garage door brands in the industry. Our products come from manufacturers that are renowned for quality, including C.H.I., Amarr, Clopay®, and LiftMaster.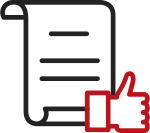 Experienced Crews
No matter how much you enjoy DIY projects, most garage door work is best left to the experts. Let our experienced, professional team handle all of your repair and replacement needs — without you having to lift a finger. All of our garage door specialists are screened, trained, and certified to ensure your complete peace of mind.

Award-Winning Service
With exclusive warranties from a team with several industry awards, you'll know your garage doors are in good hands. Examples of the numerous awards we've earned as a result of our repair and replacement services include the BBB Complaint-Free Award from 2009-2020 and the Angie's List Super Service Award from 2015-2016.
Since 2004, Aladdin Garage Doors of DuPage County has been the go-to company for Bartlett garage door repair, replacement, installation, and more. Locally based, BBB-accredited, and committed to 100% customer satisfaction, we pride ourselves on being your one-stop shop for all garage door-related needs.
We even offer 24/7 emergency repairs!
Whether you're facing a broken spring in a commercial loading bay or would like to replace your home's garage door with something more modern and stylish, we can be there fast to meet your needs—whatever they might be. Call our Bartlett garage door experts by 2pm for same-day service guaranteed!
Your Trusted Local Garage Door Company
Aladdin Garage Doors is trusted throughout Bartlett to provide quality garage door repair services, garage door replacements, and brand-new installations. That's partly because we have over 15 years of experience, but it's also because we're an award-winning company. We are a BBB accredited business, and we have won the Angie's List "Super Service Award" in 2015-2016, but that's not all!
Our customers enjoy a wide range of benefits when working with our crew that includes:
Residential Garage Doors in Bartlett, IL
Your garage is an important feature of your home. It doesn't matter if you use your space for storage, if it's where you park your car, or you use your garage as a workshop. You deserve a convenient, stylish, functional garage door, which is exactly what you'll get from Aladdin Garage Doors.
We offer a variety of Bartlett residential garage doors to ensure we have the right door for you. From cost-effective aluminum to wood carriage doors and everything in between, we'll make sure you get a door that increases the value of your home, but more importantly, we'll make sure you get a door that works flawlessly with the push of a button.
For truly custom garage doors in Bartlett, work with us to choose all of the details, including:
Composite, Wood, Glass, Steel, or Aluminum Doors
Paint Color or Stain Finish
Built-in Window Panes with Decorative Glass
Differing Levels of Insulation and Energy Efficiency
Stylish Hardware Details
And More!
You may not realize it, but the garage door of your home makes a big difference in terms of curb appeal—and we've got the right design for any size, style, and age of home. In fact, we're proud to say that all of our garage door installations are custom designed!
Get Your Free Residential Garage Door Estimate Today
The best way to get the garage door you've always wanted is to give Aladdin Garage Doors a call today. Not only can we install brand-new doors, you can call before 2pm for same-day service on installations and repairs! Contact us by phone, or fill out our convenient form, and we'll get you started on your residential garage door project with a free estimate!
Commercial Garage Doors in Bartlett, IL
Although all of our garage doors are built for durability, our commercial garage doors are specially engineered for the challenging conditions of industrial environments. From loading docks to self-storage units, our high-quality garage doors are built to perform—and they're backed by impressive warranties to prove it! You'll get a minimum four-year warranty on parts and a one-year labor guarantee.
Garage Door Repairs in Bartlett, IL
Founded in 2004, Aladdin Garage Doors is the Bartlett garage door repair company you can trust for top-quality products and an unparalleled dedication to customer satisfaction. Whether you own a home or commercial property, our extensively trained professionals have the skills and experience required to make sure your garage door is running in perfect condition.
Here's the deal.
From broken rollers to off-track garage doors, our repair experts are equipped to handle any type of service you need. Better yet, we're available when you need us most! Our 24/7 response times and same-day service for calls before 2pm ensure that you get the repairs you need right away.
24/7 Availability and Same-Day Service
As a BBB-accredited business, we take the satisfaction of our customers seriously and we go above and beyond to provide comprehensive garage door repair services. Not only do we offer services to every issue you may have, we're available 24/7 and have same-day availability for calls made by 2pm.
When you trust us as your local garage door company, you'll receive prompt, courteous service from professionals with the skills and expertise to handle any garage door issue. Whether you need a commercial garage door replacement or some rollers replaced on your home's garage door, we're the repair experts you can trust for first-rate service.
Some of our services include:
Residential Garage Door Repairs
Commercial Garage Door Repairs
Off-Track Garage Doors
Spring Replacement
Learn More About Our Bartlett Garage Door Repair Services
If you find yourself in need of garage door repairs in Bartlett, there's only one company to call—Aladdin Garage Doors. Don't deal with the inconvenience of a broken garage door, just get in touch with us. Call before 2pm for same-day service or request a consultation and no-cost estimate.
Emergency Garage Door Repair in Bartlett, IL
Whether you're heading out the door for a busy day at work or taking your kids to their weekly sports practice, there's hardly ever a good time for garage door problems in Bartlett. When disaster strikes and your garage door breaks down, call Aladdin Garage Doors of DuPage County!
Day or night, we offer reliable 24/7 repairs
All it takes is a quick call to us, and our uniformed technicians will be at your home fast. With well-stocked service vehicles and durable parts from leading garage door brands, we can provide on-the-spot service for almost Bartlett emergency garage door repair.
Our highly trained repair experts can help with:
Off-Track Garage Doors
Squeaky, Banging, or Noisy Garage Doors
Doors That Won't Open
Broken Garage Springs
Malfunctioning Garage Door Openers
And More!
24/7 Availability and Same-Day Service
When it comes to local garage door replacement in Bartlett, you can trust Aladdin Garage Doors of DuPage County. Our BBB-accredited business has been repairing and replacing garage doors since 2004, over which time we've wowed both homeowners and business owners alike.
By calling us for your Bartlett garage door problems, you'll get expertise that includes:
High-Quality Products: Our garage doors and parts are made by respected brands such as Amarr, Clopay, Wayne Dalton, and C.H.I.
Convenient Service: Call us before 2 pm, and we promise same-day service! We also offer 24/7 emergency response for your most pressing problems.
Trained Crews: We hire only the most professional technicians and then keep them trained on the latest technologies for a reliable, efficient repair.
Great Warranties: Along with a one-year labor guarantee, we also offer manufacturer warranties on parts.
Call Right Now for 24/7 Bartlett Emergency Garage Door Repair
At Aladdin Garage Doors of DuPage County, we take pride in delivering super-fast service to our clients across Bartlett—even for non-emergency situations. Call before 2pm for same-day service guaranteed!
If you're facing a garage door emergency, please call our friendly technicians right now. To schedule a free consultation and quote for a non-emergency issue, send in our hassle-free online form at any time.
Garage Door Installation in Bartlett, IL
If your garage door has finally broken down, you might be considering doing your own Bartlett garage door installation—but there are several reasons you should probably reconsider. A DIY installation isn't just potentially hazardous for you (due to the door's heavy weight), but it could also void your garage door warranty and leave you in a bad spot if anything were to go wrong.
What's the solution?
For Bartlett garage door installation services that are safer and more convenient yet comparably affordable, call Aladdin Garage Doors of DuPage County instead. Equipped with top products from respected garage door brands, our skilled technicians complete quick installations across Bartlett. Call by 2pm, and we'll be there for same-day service guaranteed!
24/7 Availability and Same-Day Service
At Aladdin Garage Doors of DuPage County, our goal isn't just to install your new garage door and then be on our way. Instead, we want to be your one-stop shop for any and all garage door needs! As a BBB-accredited business, we take our customer commitment seriously and would be pleased to show you just how hassle-free your next garage door service can be.
Count on our BBB-accredited business for:
Exceptional Garage Doors from Brands Like Clopay and Wayne Dalton
Wide-Ranging Door Designs in Wood, Steel, Aluminum, and Composite
Full-Service Expertise in Doors, Tracks, Springs, Struts, and More
Same-Day Service If You Call Before 2pm
Local Garage Door Repair Services from Trained Technicians
Emergency Response Teams Available 24/7
Long-Term Manufacturer Warranties
One-Year Labor Guarantees
Schedule a Free Consultation for Bartlett Garage Door Installation
As Bartlett's trusted garage door expert since 2004, Aladdin Garage Doors of DuPage County has the real-world expertise you need for fast, reliable garage door solutions. Whether you're facing a squeaky track, a dated design, or a totally broken-down door opener, we can be there to help you fast!
For Bartlett garage door installation or repair, call before 2pm for same-day service guaranteed. To request your free consultation and quote at a later date, please send in our simple online form right now.
Garage Door Openers in Bartlett, IL
Residential Garage Door Openers
Gone are the days that you would run from your car outside in the rain to manually open your garage door. Garage door openers, once a luxury, are a household staple in today's world. Aladdin Doors sells the best garage door openers on the market from LiftMaster and our own Aladdin Doors brand. Choose from chain, belt or jack shaft configurations. Need another remote or an outside keypad? For immediate sales, service and installation, call us today by 2 pm.
Commercial Garage Door Openers
Aladdin Doors brings you the best in commercial garage door openers (operators) from the best-known name: LiftMaster. These durable, long-lasting operators are designed for heavy duty industrial use and frequent operation. In addition to sales and installation, we provide maintenance and repairs to keep your operator running smooth all year 'round. We're not looking for a one-time job. We want to partner with you to be your choice for quality commercial garage door services.
Free Quote for Garage Door Opener Repairs!
At Aladdin Doors, what goes up, must come down! Your garage door opener, that is. You'll know when you need professional garage door opener repair when:
The garage door won't close all the way
The garage door reverses when it hits the floor
The garage door won't open completely
The garage door doesn't open but the motor keeps running
The remote control, inside wall switch and/or outside keypad will not open/close your door
Hurry! Call Aladdin Doors today by 2 pm to get an appointment same day for garage door opener repairs.
Replacement Garage Doors in Bartlett, IL
A functional garage door will keep your vehicle and other household belongings safe and allow you to enter and exit your Bartlett home with ease. But why settle for a garage door that's only functional?
At Aladdin Garage Doors of DuPage County, our Bartlett garage door replacement options are so much more than practical—going beyond your expectations for high-end materials, proven energy efficiency, and custom curb appeal. Get all this today by calling before 2pm for same-day service guaranteed!
Your Trusted Local Garage Door Company
As a BBB-accredited business and your local dealer for Aladdin Garage Doors, we offer garage door replacement services that exceed the industry standard in every way. From product quality to installation expertise, you simply can't beat our local crews!
Trust your Bartlett garage door installation service to us, and you'll get:
Exceptional Products: From Wi-Fi enabled garage door openers to extremely durable doors themselves, we install products from reputable brands like LiftMaster, Clopay, and C.H.I.
Custom Style: First we'll help you select the right material (like galvanized steel, composite, or real wood) and then we'll show you our wide variety of finishes, colors, and styling details.
Fast Service: We offer 24/7 availability and same-day service so that you never have to wait too long for the garage door repairs or installation you need.
Terrific Warranties: All of our garage door installation services come with a one-year labor guarantee and industry-leading warranties on parts.
The bottom line?
We won't just replace your garage door fast! We'll also make sure that your new garage door installation is perfectly suited to your home and ready to perform for years to come.
Grab a Free Quote for Bartlett Garage Door Replacement
If you're tired of a noisy, outdated, or unattractive garage door, make a lasting change today by calling Aladdin Garage Doors of DuPage County. For the most convenient installation anywhere in Bartlett, call before 2pm for same-day service from friendly, uniformed technicians! You can also request your free consultation and quote by submitting our simple online form right now.
Garage Door Spring Replacements in Bartlett, IL
You'll know something isn't quite right when your garage door springs become compromised. Garage doors with bad or broken springs will be too heavy to open by hand, they will only open a few inches, or the door may appear crooked as it moves on the track. If you're experiencing any of these problems, it's time for an Bartlett garage door spring replacement.
Aladdin Garage Doors has proudly been repairing all kinds of garage door problems since 2004. Not only will we get your garage door back to normal, we'll do it fast! With 24/7 emergency services and same-day service, you'll never have to worry about getting your car stuck behind a garage door that refuses to open.
Get 24/7 Availability and Same Day Service
We're known for fast service here at Aladdin Garage Doors. As a BBB accredited business and an award-winner of the Angie's List "Super Service Award", you can count on us to provide you with service that is just as friendly as it is fast.
Our comprehensive garage door repair services include:
Standard springs that are backed by multiple warranties
High-cycle springs that last longer than standard springs
Products and parts from multiple brands, like LiftMaster, Service Genie, and more
Emergency services that never come with extra charges
Schedule Your Garage Door Spring Replacement Today
From springs to brand-new doors and emergency services, Aladdin Garage Doors is standing by to repair, replace, or install your garage door. Call before 2pm for same day service, if you're experiencing an emergency! You can call to speak directly to one of our garage door experts, or fill out our online form for a fast, free estimate right now!